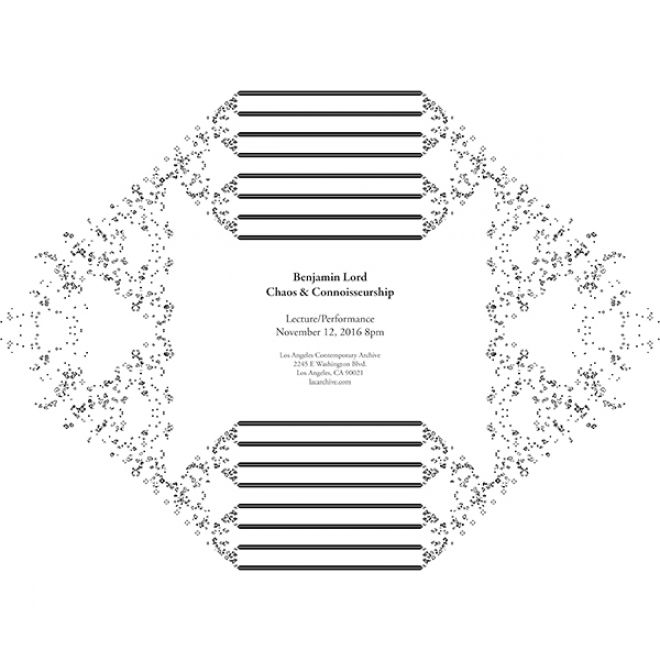 Benjamin Lord: Chaos and Connoisseurship. Nov 12, 8pm at LACA
Los Angeles Contemporary Archive is pleased to host Chaos and Connoisseurship, a lecture/performance by artist Benjamin Lord. Lord will discuss Lifey, a computer program he recently created. The program is a player for the Game of Life, an algorithm created by John Conway in 1970, which has gone on to become the most programmed game in the history of computing. In Conway's system, simple and intuitive rules generate highly complex and unpredictable visual results. Lifey is both an archive of the vast, ongoing history of peculiar discoveries and engineered inventions in the "Life" space, and a reimagining of the game for the age of Photoshop, with its attendant anxieties. Almost fifty years after its inception, the Game of Life can still challenge the beholder to discard simplistic notions of order and disorder, agency and outcome, and to rethink the philosophical relationship between creative intentionality and rule-based processes.
Benjamin Lord makes sculptures, prints, drawings, and books, with a special attention to the ways that photography organizes the imagination and the world. His early work explores the poetics of place and space, with particular regard for the cultural ecology of the southern California landscape. Later projects have dealt with the poetics of illusionism, the conflicting legacies of modernist anthropology, and the relationship of photography to fiction. His work is in numerous public and private collections, including the Walker Art Center, the Museum of Modern Art, and the Metropolitan Museum of Art. Lifey is the artist's first internet-based artwork. He lives and works in Los Angeles.
Los Angeles Contemporary Archive is an artist-run physical and digital living archive and non-circulating library in which contemporary creative processes are recorded, preserved, and made available to the general public. Challenging established concepts of the archive and art space, LACA sustains a unique experimental environment for critical inquiry, artistic research, and public dialogue.
L.A.C.A
2245 E Washington Blvd, 90021