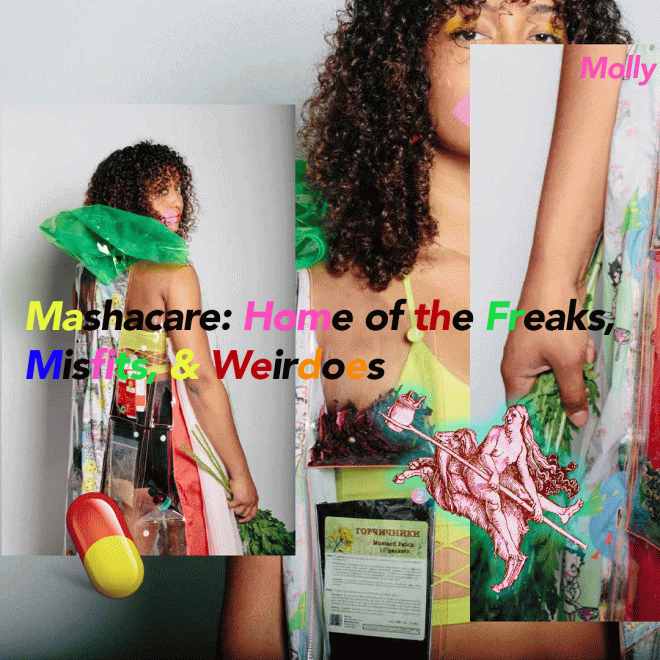 Please join Los Angeles Contemporary Archive (LACA) November 21st, 12-4pm for Molly Surazhsky's new book Mashacare: Home of the Freaks, Misfits, & Weirdoes.
LACA is pleased to release Mashacare: Home of the Freaks, Misfits, & Weirdoes. This Lookbook draws upon the Mashacare SS19 Collection and uses sci-fi narratives to construct an imaginary floating city named after Surazhsky's Babushka, Masha. Surazhsky has created and fashioned clothing for Mashacare, a post-glacial future, as a way to envision the inhabitants of a matriarchal and post-capitalist reality.
Text contributions by Scott Benzel, Hailey Loman, and Serena Aurora Day Himmelfarb. Design by Síta Valrún.
Order your book with us HERE!
Price: $45.00

About the Artist:
Molly Surazhsky received a BFA from California Institute for the Arts, Valencia CA (2019) and attended Mountain School of the Arts in Los Angeles, CA (2017). Recent exhibitions include PPE • People's Power Enhancement, Hunter Shaw Fine Art, Los Angeles (2020), Death Show , Elevator Mondays, Los Angeles (2018); CO/LAB III, Torrance Art Museum, Torrance, CA (2018); and El Acercamiento , Fábrica de Arte Cubano, Havana, CU (2017). Molly lives and works in Los Angeles, CA.
______________________________________________________________________

This is an in person event. Books will be available for purchase and LACA will provide coffee and other refreshments. We will only be accepting mobile payments: Venmo (@masha-care) or Paypal. When visiting LACA please follow current LA County COVID-19 safety guidelines, including wearing a face mask and observing physical distancing protocol. Two hand washing stations are available outside of the archive. We look forward to seeing you while being safe!
Los Angeles Contemporary Archive (LACA) is committed to making our programs and events accessible to everyone who wants to attend and participate. As our facility is limited to staircase access, we extend our best efforts to provide accommodations or assistance. Please feel free to contact LACA prior to any events or for site visits.