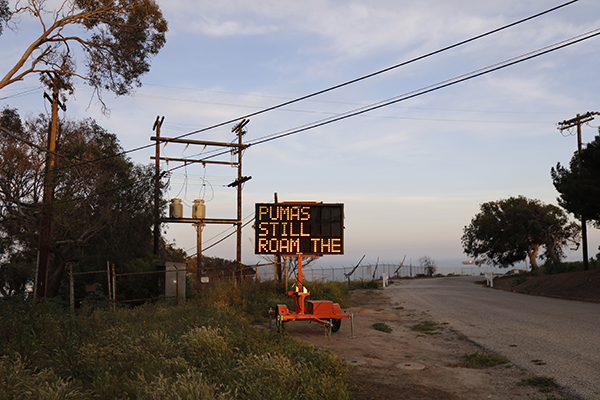 break down, re source
Los Angeles Contemporary Archive (LACA)
December 1 - January 6
Opening December 1, 7-10 PM

Approached as a dialogue between the artists' video installation and photograph within the archive/exhibition space, break down, re source presents two research-based practitioners rooted in experimental documentary filmmaking and photography. The two artists investigate possessions of land and its material evidence - markers, language, historical narratives - embedded within their respective spaces of inquiry.
The Land Under Iron, 2017
The Land Under Iron addresses the enduring legacy of colonialism and settlement in the American West. Borrowing the visual language of highway signs that orient the flow of traffic around road closures and construction zones, these works redirect passersby along an alternate axis of experience — offering a rumination on lines, boundaries, demarcations, and the ways in which systems of enclosure have ramified power from the 16th century to the present. Moving between Downtown Los Angeles, where tower cranes pierce the landscape, and San Pedro's Fort MacArthur, a retired naval base overlooking the Port of Los Angeles, the project asks the viewer to navigate between two spatial forms etched onto the landscape: the construction zone that prefigures the luxury enclave and portends displacement, and the military fortification that points toward a history of imperial occupation and conquest. In the interstices roams the spectral figure of the puma, a reminder of that which precedes — and may supersede — these architectures of control.
The Land Under Iron (DTLA) draws on the work of the Federal Writers Project, which details settlers' speculative relationship to land during the California real estate boom of the 19th century. The Land Under Iron (Fort MacArthur) was composed with Armin Fardis, whose research explores the experience of carcerality in the history anti-colonial thought. Redeployed in the archive, the works function as both documents and reenactments, seeking to render visible and activate lines of conflict that structure our experience of the contemporary city.
End of the Line, 2014
End of the Line addresses memory, entropy and the death of analogue photography via the historical and environmental significance of small town Keeler, California. The story of Keeler draws uncanny parallels to the death of analogue film and the photographic print. During the early 20th century, Keeler was a thriving community alongside Owen's Lake at the foothills of the Sierra Nevadas. However, the demand for water from rapidly growing Hollywood and Los Angeles drained the lake's waters. Once dry, silver dust was discovered on the lake bottom and sold to film processors like Kodak. Today, Keeler is a modern day ghost town, its resources either extinguished or obsolete. End of the Line is a digital photograph that depicts a rubbing (drawing) of a commemorative brass plaque, a monument of sorts, that in its liminal position and extreme geography atrophies and will soon be buried beneath a silver dust.
-----------------------------------------------------------------------------------------------------------------------------------------------------------

John Hulsey's public projects engage the crisis of land, property, and place in North America. Working across media and in collaboration with interdisciplinary researchers, activist collectives, and tenants' rights organizations, his work intervenes on sites of power and imagines alternate relationships to land and place. Individual and collaborative projects have been presented at the U.S. Pavilion of the Venice Architecture Biennial, Open Engagement, The Carpenter Center for the Visual Arts, The New York Art Book Fair at MOMA/PS1, Human Resources Los Angeles, Angels Gate Cultural Center, and in conjunction with exhibitions organized through Creative Time and Pacific Standard Time. His work and writing have appeared in the New York Times, Creative Time Reports, and e-flux conversations, among other publications. He is a member of City Life/Vida Urbana and School of Echoes Los Angeles.

Johanna Breiding is a photographer, video and installation artist that intersects analog and digital technologies to emphasize voice, movement and experiential pathos. She has exhibited work at venues and museums including Photo LA, Elga Wimmer Gallery, LAXART, Human Resources, Ochi Projects, Armory Center for the Arts, Southern Exposure, Berkeley Art Museum and Pacific Film Archive, and the Oakland Museum of California. She is a recipient of the 2017 Rema Hort Mann Emerging Artist Grant. Originally from Zürich, Johanna Breiding currently lives and works in Los Angeles, where she currently teaches at Scripps College.

Image: The Land Under Iron (Fort MacArthur), John Hulsey in collaboration with Armin Fardis