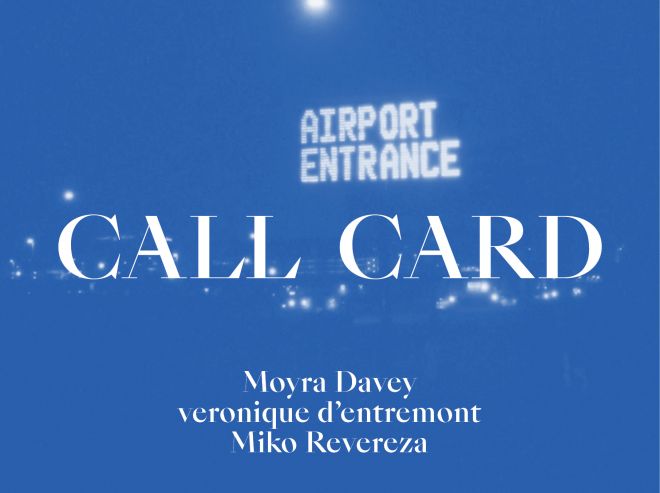 Call Card
Moyra Davey, veronique d'entremont, Miko Revereza
Organized by Hugo Cervantes and Kate Rouhandeh
Opening reception, May 14th 5pm-8pm
(Masks and social distancing required)
The Archive is open by appointment and for drop in visits Friday-Sunday from 12-6pm.
"Dearest child, I received your letter and hope you'll write often." This line, sent by a mother to her daughter, opens Chantal Akerman's 1976 film, News From Home. The mother, at home in Belgium, writes to her daughter in New York as a means of processing her recent departure. She reads her letters—mundane and anxious, about the weather, relatives, if the daughter needs sandals or money—over static shots of New York City. The correspondents, separated by the Atlantic, are both absent from the frame. New York's public spaces and the voice reading the letters give form to the distance between them.
Letters pile up and make their way into organized forms, or disappear forever. The work of Moyra Davey, veronique d'entremont, and Miko Revereza, the three artists featured in this exhibition, gestures towards such forms. Like call numbers or calling cards, these artists make works which identify and index, constructing archives of familial and geographic separations, transits and crossings, and textual memory.
Moyra Davey's photographs and videos operate intertextually, conceptually connecting text and images. Davey's practice includes an ongoing epistolary project for which she folds up photographs, placing stamps and addresses directly on the prints, and mails them to friends, curators, and others. The prints are subsequently unfolded and presented in calendar-like grids, with the signs of their journey intact. In Réunion (2021), a pair of photographs taken in Paris, Davey captured the wares of stamp vendors, attending specifically to the texture and materiality of correspondence as medium.
veronique d'entremont blends personal narrative with mythology, proposing ways of healing from intergenerational trauma, and prompting the imagination of pedagogical and social formats capable of administering care. The sculptural and sonic installation, Her Body Became an Antenna, Transmitting the Message of God (2019), features a bust sculpted by the artist's mother recast in beeswax and honeycomb, with sound transmitted from inside of a beehive.
Miko Revereza utilizes time-based media to present displacement as subject and material in films which explore distance as both circumstantial and metaphorical. In DISINTEGRATION 93-96 (2017), Revereza narrates his migration to the United States at five years old over his family's deteriorating home movies. Featuring a playlist of films by diasporic filmmakers, Distancing (2019), constructs spaces of geographic and psychic transit.
The curators would like to thank the artists, Ted Gerike, Jenny Lin, Nicolas Linnert, Hailey Loman, and Karen Moss for their generous support of and contributions to this exhibition.
Moyra Davey (b. 1958, Toronto, Canada) is a New York-based artist whose work comprises the fields of photography, film and writing. She is the author of Index Cards, Burn the Diaries, The Problem of Reading, and is the editor of Mother Reader: Essential Writings on Motherhood. The Shabbiness of Beauty, a book of photographs by Peter Hujar and Davey, with a text by Eileen Myles, is forthcoming in April, 2021. Davey's work is held in major public collections, including the Museum of Modern Art and the Metropolitan Museum of Art in New York, and Tate Modern in London. She is a 2020 recipient of the John S. Guggenheim Memorial Foundation Fellowship.
veronique d'entremont (b. 1983, Boston, Massachusetts) is a trans-disciplinary artist working primarily in sculpture and sound installation. They descend from a line of Sicilian women who are either blessed with spiritual gifts or cursed with bi-polar disorder, depending upon who you ask. To make sense of this legacy and the resulting suicide of their own mother, veronique infuses personal documentary with elements of magical realism, using their work as a medium for building empathy, healing from inter-generational trauma and challenging notions of otherness. Through creative myth-making, veronique seeks pathways toward healing our relationships to our environment, to each other and to ourselves. The artist looks to stories from early Christian mysticism, Sicilian folk magic and other earth-based practices for ways we may reimagine our attitudes toward neurodiversity and claim queer ancestry with human and non-human kin. veronique's practice spans devotional sculpture, audio installation, video and performance, and involves an ongoing, inter-species collaboration with a feral colony of honeybees the artist believes to be the earthly manifestation of their deceased mother. veronique d'entremont has exhibited their work internationally, and locally has shown their work at Human Resources Los Angeles, The Los Angeles Municipal Art Gallery, The Pasadena Museum of California Art, The Torrance Art Museum, and the art galleries of Cypress College, Cerritos College, Palomar College, Chapman University and UCLA. Solo exhibitions include Commonwealth and Council and SPACES Cleveland. Veronique has been supported by numerous awards and residencies including a Joan Mitchell Fellowship, and residencies at the Joan Mitchell Center, SPACES Cleveland, ACRE, The Berwick Research Institute, Mesa Refuge and Los Angeles CleanTech Incubator.
Miko Revereza (b.1988, Manila, Philippines) is an experimental documentary filmmaker raised in California and currently based in Mexico. His shorts and feature film, No Data Plan (2019), have been widely screened at festivals such as Locarno Film Festival, International Film Festival Rotterdam, Projections at the New York Film Festival, and the Film at Lincoln Center's Art of the Real. His work has been exhibited at institutions such as MoMA PS1, SF MoMA, Whitechapel Gallery, and National Museum of Singapore. He was included in Filmmaker Magazine's 2018 25 New Faces of Independent Cinema, the winner of Sheffield Doc/Fest Art Award, and a 2019 Flaherty Seminar artist. Revereza received his MFA from the Milton Avery Graduate School of the Arts at Bard.
------------------------------------------------------------------------------------------------------------
Tarjeta de llamadas
Moyra Davey, veronique d'entremont, Miko Revereza
Organizada por Hugo Cervantes y Kate Rouhandeh
Inauguración, 14 de mayo 5pm-8pm
(Se requieren máscaras y distanciamiento social)
"Querida hija, he recibido tu carta y espero que me escribas a menudo". Esta frase, enviada por una madre a su hija, abre la película de Chantal Akerman News from home [Noticias de casa], de 1976. La madre, en su casa de Bélgica, escribe a su hija en Nueva York como manera de procesar su reciente partida. La artista lee las cartas —mundanas y angustiosas, sobre el tiempo, los familiares, preguntándole necesita sandalias o dinero— mientras se ven planos estáticos de la ciudad de Nueva York. Las dos corresponsales, separadas por el Atlántico, están ausentes del encuadre. Los espacios públicos de Nueva York y la voz que lee las cartas dan forma a la distancia que las separa.
Las cartas se amontonan y se abren paso en formas organizadas, o desaparecen para siempre. El trabajo de Moyra Davey, veronique d'entremont y Miko Revereza, los tres artistas que participan en esta exposición, es un gesto hacia ese tipo de formas. Al igual que los números de teléfono o las tarjetas telefónicas, estos artistas realizan obras que identifican e indexan, construyendo archivos de separaciones familiares y geográficas, tránsitos y cruces, una memoria textual.
Las fotografías y vídeos de Moyra Davey funcionan de forma intertextual, conectando conceptualmente texto e imágenes. El trabajo de Davey incluye un proyecto epistolar en curso para el que dobla fotografías, coloca sellos y direcciones directamente sobre las impresiones, y las envía por correo a amigos, curadores y otras personas. Posteriormente, las impresiones se desdoblan y se presentan en cuadrículas a modo de calendario, con las señales de su viaje intactas. En Réunion (2021), un par de fotografías tomadas en París, Davey captura la mercancía de los vendedores de sellos, prestando especial atención a la textura y la fisicidad de la correspondencia como medio.
veronique d'entremont mezcla la narrativa personal con la mitología, proponiendo formas de curación de los traumas intergeneracionales e incitando a imaginar formatos pedagógicos y sociales capaces de proporcionar cuidados. La instalación escultórica y sonora, Her Body Became an Antenna, Transmitting the Message of God [Su cuerpo se convirtió en una antena que transmitía el mensaje de Dios] (2019), presenta un busto esculpido por la madre de la artista refundido en cera de abeja y panal, con sonido transmitido desde el interior de una colmena.
Miko Revereza utiliza medios basados en el tiempo para presentar el desplazamiento como tema y materia en películas que exploran la distancia como algo circunstancial y metafórico. En DISINTEGRATION 93-96 [DESINTEGRACIÓN 93-96] (2017), Revereza narra su migración a Estados Unidos a los cinco años de edad a través de las deterioradas películas caseras de su familia. Con Distancing [Distanciamiento] (2019), una lista de reproducción de cineastas diaspóricos, genera espacios de tránsito geográfico y psíquico.
Los comisarios agradecen su generoso apoyo y sus contribuciones a esta exposición a los artistas, así como a Ted Gerike, Jenny Lin, Nicolas Linnert, Hailey Loman y Karen Moss.